Sell Your Jet Boat Faster & For A Higher Price!
By Making Sure Your Listing Has GREAT photos.
Selling your Jet Boat on the Internet definitely makes connecting with buyers easier than ever before.  Because most potential buyers won't be local to you and will not have the opportunity to see your Jet Boat in person before making the decision to travel, it is important that you provide a minimum of 10 pictures in your listing, additional pictures are highly recommended.
Good quality photos (video too if you have it) are like a virtual walk-around of your boat for a potential buyer and are very effective in moving recreational vehicles such as boats where a buyer is willing to travel great distances for their purchase.
Why are photos important?
Multiple photos will make your listing more attractive and interesting.
Detailed photos can keep a prospective buyers interest and make them act quickly.
Photos speak for themselves and buyers are likely to have fewer questions.
Good photos provide buyers with added confidence in the quality of your boat.
Photos should be taken from several vantage points:
Get all four sides (front/back/port/starboard) with entire boat in picture frame.
Interior of boat cockpit to show condition of seats, floor and dashboard.
Take photos of the engine from each side.
Take photos showing engine hours and jet pump hours if applicable.
Take close-ups of any damage: dings, dents, stains, or other damage.
Photographing Your Jet Boat
Generally, Jet Boats that are listed with good quality photos will receive a lot more interest and they will likely draw higher offers and sell faster than a boat with poor quality photos.
What Not To Do:
Avoid action shots.  Buyers don't get the details they need from these.
Avoid taking photos of the boat if it's not clean or the interior is messy.
Avoid taking photos in poor lighting.
Some Bad Photo Examples
As you can see, poor quality photos make it very difficult for a potential buyer to access the condition of your boat.  This makes buyers cautious and much more likely to move onto another boat they feel is better suited, even if your boat has everything they are looking for!  High quality photos will help you sell your boat faster and for a higher price.  When buyers have confidence in your product they will be much more likely to reach out and inquire, or even make an offer.
Some Excellent Photo Examples
Taking Photos Of Your Boat Exterior
Provide potential buyers with a direct full exterior view of your boat. Take "Landscape" pictures of the front, back, and both sides of the boat. Make sure the entire boat fits into the picture frame and be sure to use one of the higher settings on your phone or camera. Take additional close-up pictures to provide as much detail as possible.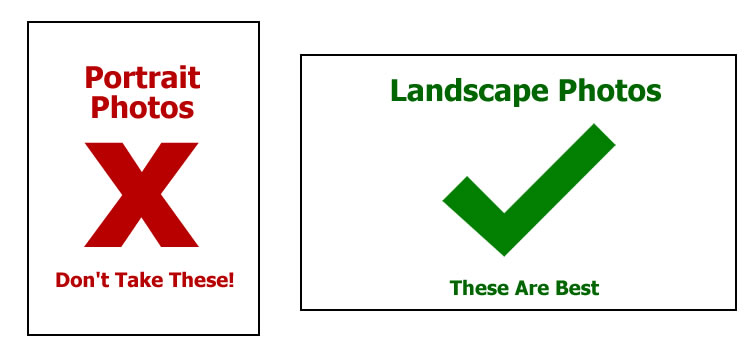 Condition or Damage Photos
As you walk around the outside of your Jet Boat, check to see whether there are any other details you know of that would show the condition.  If you were a buyer, what do you think you'd like to know about the boat? In order to increase buyer confidence, take photos of any notable issues including:
Dents, creases, broken welds, rust, interior damage, rips, tears, paint fade, and scratches
Hull condition, jet condition, flooring, dash, windshield
Buyers should be aware of any known problems with your boat before they commit to travelling a great distance to the view boat or even purchase it outright prior to an inspection by themselves or a professional marine mechanic.
If there are damaged areas you'd like to bring attention to then the use of blue masking tape can be used to highlight damage.  Damage on a hull is sometimes difficult to see in a digital picture so it is important to point it out so the buyer is aware of it.
Taking Interior Photos Of Your Boat
Make sure to photograph the seats, the floor, dashboard, gauges, and any optional equipment (such as stereo, VHF, GPS, and other accessories), pictures of any storage areas too if applicable. Also include any items that help identify optional or additional equipment the boat has, such as trim level and it's condition.
Lighting is very important for interior photos as shadows and poor lighting can make them very difficult to see details. Use of a flash for interior photos if the lighting is poor.
Manufacturer Plates and Tags
If there is a manufacturers identification plate or safety plate on the boat that lists specifications such as capacity, dry weight, engine size, make sure there is a high quality photo of it in your listing.
Engine & Jet Pump Hour Meters
Take close-up photos of the engine hour readings and jet pump readings on your boat if it has them. Take a picture of the hour meter with the keys in the ignition and the power turned on so the hours appear clearly in the photo.
Engine and Jet Pump Photos
Buyers will want to know that the engine and pump combo on your boat has been maintained and is in working condition. One clear photo of each side of the entire engine is adequate, along with a couple photos of the pump.
Proper Picture Framing
Take landscape pictures of all four sides with the entire boat in the frame of the photograph.  The background should be neutral and clean, like a parking lot, field, lawn, etc.., so the boat is easy to see and is the center of attention.  You don't want people or other obstructions in front of the boat or even in the photo.  Only include one or two action shots of the boat in the water, buyers are more interested in the boats details, not the fun you've had with the boat.
Proper Lighting
Shadows and poor lighting can make photos difficult to see online. Shadows from trees and buildings can obscure a clear view. Early morning or late afternoon light is generally the best for taking photos. You should have your back to the sun and watch for shadows, including your own. Use a flash for interior and engine shots if the lighting is poor.  Take pictures outside and tow the boat away from any obstructions.
(It's 100% FREE – we just had to create a simple registration to stop spammers!)