Get Your Brand In Front Of More Jet Boaters
From running a rocky, shallow river in Northern BC on a remote hunting trip to enjoying a nice day out with friends and family, our visitors are here for one reason.  They want to buy a jet boat so they can start creating their own adventures.
We created the platform - You've got the boats, products, and services!

We Received Approx.
Unique Visitors March 2018
We Received Approx.
Unique Visitors May 2018
We Received Approx.
Unique Visitors April 2018
We Received Approx.
Unique Visitors June 2018
Get Your Jet Boat Inventory, Parts Or Services In Front Of Buyers Right Now.
The primary focus of JetBoatsForSale.ca was to create an online sales platform for listing welded aluminum Jet Boats.  We wanted to create a place where builders, dealers, and private sellers could quickly list their jet boats for sale and get their boats or their brand in front of a targeted, "turn-key", audience, fast.
We also wanted a place for jet boaters interested in buying to be able to browse the largest inventory of new and used jet boats for sale along with the parts and accessories they need to keep their boats running.
Our targeted visitor demographic makes JBFS a perfect match for any business that is providing services or products to the jet boating industry.
Our website will be the least expensive, most productive member of your sales team. It will never call in sick and it's up 24/7/365 advertising your inventory, services and products to jet boaters.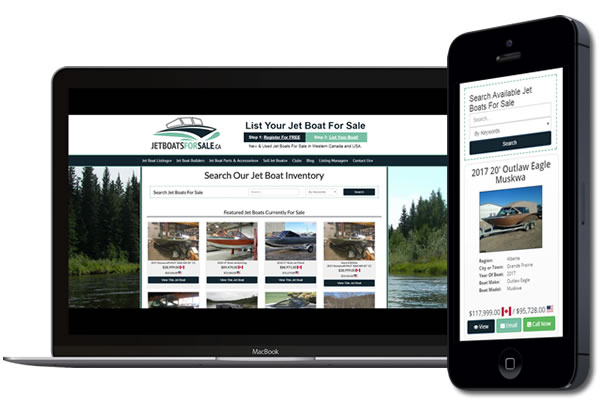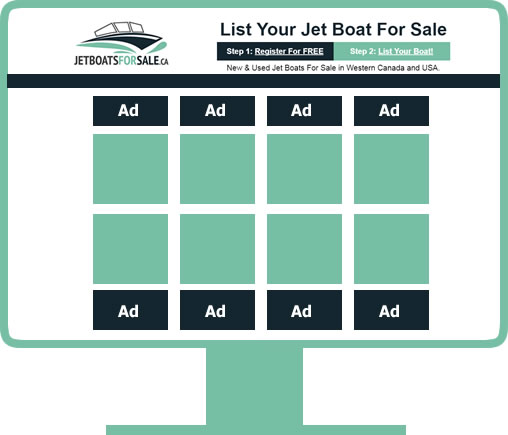 Our homepage ad placements offer excellent exposure on our websites busiest page.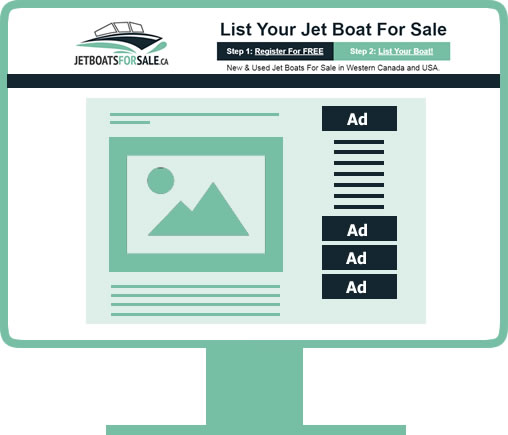 Advertise your company or products in the sidebar of actual boat inventory listings.
Parts & Accessories Pages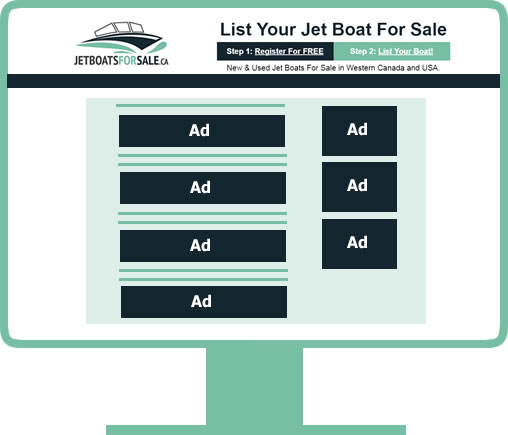 Advertise in our parts and accessories section.  Winches, engines, pumps, heaters, UHMW.
Dedicated Brand Pages
We include a dedicated brand page for all of our advertisers.  On your brand page you can showcase your company and products to jet boaters.
In the case of a builder or a boat dealer you can also have your jet boat inventory displayed on your brand page if it's listed on JetBoatsForSale.
Your Brand Page Will:
Showcase your company
Advertise your jet boating products
Advertise your jet boating services
Benefit your own Search Engine Marketing
Brand pages are exclusive.  Your brand page will only display your products or in the case of a boat builder your affiliated dealers.  Brand pages will not display competitors ads.
See A Boat Builder Brand Page |  See A Parts Supplier Brand Page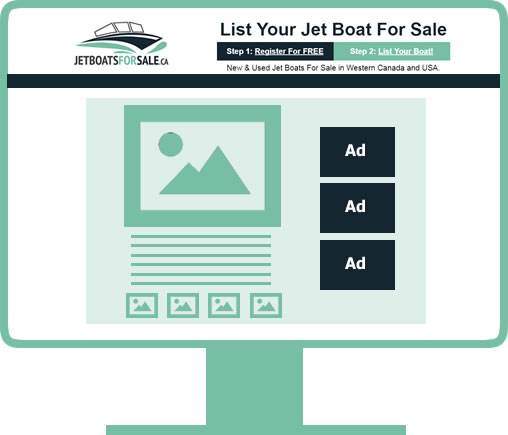 How Much Traffic Do We Get?
Generating good quality web traffic takes a lot of work and effort.  We've spent the last year developing reliable streams of targeted jet boating traffic.
We Receive Approx.
Unique Visitors Per Day
We Received Approx.
Unique Visitors June 2018
Those Visitors Are Responsible For
Page Views Per Day
Those Visitors Are Responsible For
Page Views In June 2018
Our Visitors Spend
Minutes On Average Per Session
Our Visitors Will View
Boats On Average Per Site Visit
Average Cost Per Visitor
$0 Cents
Through Google Adwords PPC
Do You Know The Real Cost Of Your Web Traffic?
For a business to buy the traffic we're already generating for the Jet Boat industry it would cost $.70 cents per click on average and we're generating clicks from hundreds of jet boat for sale keyword phrases.  To buy the equivalent amount of targeted traffic through Google Pay-Per-Click you could expect to pay over $2600 per month!  The real cost to you is the cost of lost opportunity by not piggy backing on our traffic.
Where Does Our Traffic Come From?
These statistics are from January 1st 2018 - June 30th 2018.  Our website is heavily promoted in Search Engines and Social Media.  We are a small team of web marketers located on Vancouver Island.  We specialize in lead generation through proper search engine optimization.
Organic Search
%
18,441 Visitors
These are visitors from Google, Yahoo, And Bing searches.
Direct Traffic
%
7,235 Visitors
These are repeat visitors who type in our URL www.jetboatsforsale.ca
Social Media
%
4,498 Visitors
We promote our website and listings on our Facebook page.
Referrals
%
1,163 Visitors
This is referral sites such as Kijiji, Craigslist, Scott Waterjet and More.
Some Example Search Phrases People Use To Find Us.
This is a small sample (40) of some of the more popular keyword phrases you'll find www.jetboatsforsale.ca in Google, Bing and Yahoo.  In most cases we're ranked in the top 5 and usually always on the first page of results.
jet boats for sale
firefish jet boats for sale
jet boats for sale bc
firefish boats for sale
jet boat for sale
river jet boats for sale
jet boat for sale bc
mini jet boat for sale
bratt jet boats for sale
outlaw eagle jet boat for sale
aluminum jet boat for sale
aluminum jet boats for sale
firefish hammerhead for sale
jet boats for sale in bc
used jet boats for sale in bc
used aluminum jet boats for sale
ali craft boats for sale
hcm boats for sale
jet boats for sale canada 
river boats for sale bc
outlaw jet boats for sale
used jet boats for sale bc
eagle jet boats for sale
river boats for sale
outlaw muskwa for sale
outlaw jet boat for sale
firefish boat for sale
jet boats for sale saskatchewan
jet dinghy for sale
custom weld boats for sale
used river jet boats for sale
kingfisher extreme shallow for sale
custom weld storm for sale
used jet boats for sale
river jet boats for sale in bc
thunder jet boats for sale
used jet boats for sale in alberta
firefish for sale
jetboats for sale
mini jet boat for sale bc
We Are Found For More Than 707 "Jet Boats For Sale" Keywords
While most jet boat builders or boat dealers are stuck promoting their own brand keywords in search engines and on the Internet our website is a "marketplace" and focuses on Jet Boats in general.  This allows us to be nimble and dance around hundreds of different keywords and phrases related to the different types of jet boats, builders, models and brands. 
Someone may come to our website with intent to research and buy a boat from brand A because their buddy has one only to fall in love with a boat from brand B instead and then ultimately ends up buying a boat from brand C after what seems like endless test drives.  The fact is you don't know what a buyer is going to do until they're "ready to go" and if your boats aren't in their field of vision, it's one less opportunity at a sale for you.
Of Our Search Engine Traffic
%
Searched A Particular Make/Model "Jet Boat For Sale"
Based on their search query including "for sale" they have qualified their "intent".  They are very likely looking to buy a boat and doing research.
Of Our Total Traffic
%
Of Visitors Returned To View Our Inventory Again
These visitors came back for a repeat look at a particular boat or several within 24 hours of their first visit.  They are more serious buyers.
The Limitation Of Your Brand Keywords
For most jet boat builders or dealers they need to optimize their website for their own particular makes/models of boats.
Because we're a marketplace we can optimize our website for every single jet boat make and model.
This increases our traffic exponentially and also your exposure to potential customers who may have never heard of your brand before.
The Benefits Of Viral Advertising
We place a heavy emphasis on acquiring traffic from Social Media.  When a new jet boat is listed on our site for sale or a new advertising partner is acquired we announce it on our Facebook page.  This can sometimes result in a boat or post going viral and getting shared to hundreds or thousands of people.

Who Our Visitors Are
These demographics are based on statistics acquired through Google Analytics and Google Search Console.
Our visitors are almost exclusively male.  The primary purchasers of Jet Boats and Accessories.
92% of our visitors are of the age to make large purchasing decisions such as buying a jet boat. 
Males Aged 25-65
It's males aged 25-65 that make up more than 90% of our Internet traffic according to Google Analytics.  This is also the demographic group most likely to purchase a jet boat.
Our website is used for market research along with the hope they'll find a great deal on a particular make/model of jet boat they've been wanting to buy.
%
Of Our Canadian Traffic Is From BC
%
Of Our Canadian Traffic Is From Alberta
Our USA visitors are coming primarily from Washington State, Idaho, Oregon and Montana.
Advertise Your Products & Services To Current And Future Jet Boaters
The most likely time a boat owner is going to buy products and upgrades for their boat is during their first few months of ownership.  Our web visitors have expressed an interest in buying a jet boat and are likely going to be purchasing parts and accessories as well.  Engines (repowers), pumps, impellers, winches and recovery gear, heaters, and more.
We offer an excellent platform for you to get your jet boating parts, products or services in front of the jet boating crowd.
Advertise Your New, Used & Consignment Jet Boat Inventory To Interested Buyers
Our website offers an online platform with traffic already in-place to get your inventory viewed by prospective jet boaters looking to buy, sell or get into their first jet boats.  Many of our visitors want to buy a jet boat and it's quite likely they can't name more than 3 or 4 builders when they first become interested in the sport.
We offer a turn-key way to get your inventory in front of people who've raised their hand and said they are interested in purchasing a jet boat!
Parts, Accessories And Services
Homepage Banner in Rotation

Listing In Appropriate Parts Pages

Sidebar Banner on Applicable Pages

We'll Write And Share A Blog Post About Your Services

We'll Share Or Post Your Company News Related To Jet Boating.
Jet Boat Builders & Boat Dealers
Unlimited Jet Boat Listings (new/used/consignment)

All Listings Featured On Homepage

Homepage Banner in Rotation

Sidebar Banner on Applicable Pages

Inclusion in Parts and Services Directory