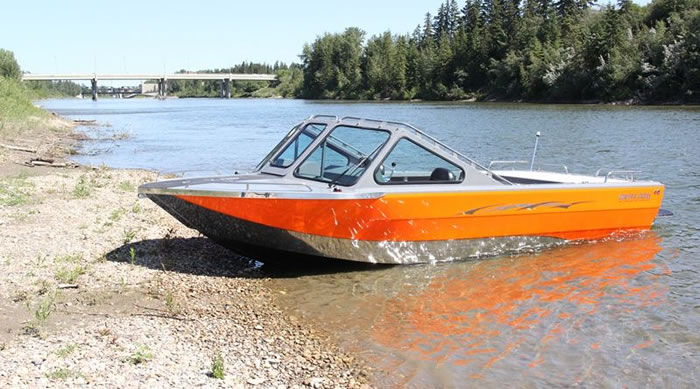 Outlaw Eagle Manufacturing Ltd. continues to remain one of the most trusted, aluminum jet boat builders around.
You'll find Outlaw Eagle boats on rivers and lakes throughout Alberta, BC, The Yukon, Saskatchewan and into the USA.  Outlaw boats are used for work, family boating trips, camping, fishing and remote back country hunting.
There is a very healthy used market for Outlaw Marine jet boats and those that have been taken care of hold their value quite well.
Outlaw Eagle Jet Boats Listed On JetboatsForSale.ca
Outlaw Eagle Manufacturing Ltd.  Jet Boat Models
Outlaw Marine Models
Bobcat 17'
Clearwater 22' - 24'
Lynx SJ 16'
Lynx V8 20'
Muskwa 20'-22'
Nahanni 20'
Tomcat SJ 16' - 18'
Tomcat V8 18' - 20'
Eagle Performance Models
Eagle 12' Sport Hull
Eagle 19x Sport
Eagle 21x Sport
Eagle Race Tunnel
Eagle Sabre E5
Eagle Sabre E6
Eagle Sabre E7
Eagle Sabre E8
Outlaw Eagle Manufacturing Ltd. Contact Details

Phone: 403-347-4565
Toll Free: 855-647-4672
Website: https://www.outlaweagle.com |  YouTube |  Facebook
Mailing Address: 141 Poplar Ridge Road. Red Deer County, Alberta, Canada T4S 0K6