Don't Let Getting Stuck Stop You.
Part of being a responsible jet boater is having the right recovery gear for when things go wrong.  Getting your boat high and dry with your wife and kids probably won't be the same adventure as if you were with a few buddies.
[parts_listing limit="5" category="Winches"]
Here are some Amazon links to some of the most popular pieces of recovery gear for jet boaters including winches, rope, straps and more.
Portable Capstan Winches For Jet Boaters
PCW-3000 Portable Capstan Winch
$1124.69 On Amazon
Dimensions: 13.7"L x 11.4"W x 10.2"H

Max. Pulling Force: 1550 lbs.

Powered by a 1.6 HP Honda GX35 Engine

Weight: 20 lbs.

Includes 6' polyester sling
PCW-5000 Portable Capstan Winch
$1514.69 On Amazon 
Dimensions: 14.6"L x 14.4"W x 14.4"H

Max. Pulling Force: 2200 lbs. (single line)

Powered by a 2.5 HP Honda GXH50 Engine

Weight: 35 lbs.

Includes drum (2 1/4"), 2 hooks, and 1 polyester sling (6')
Don't Want To Spend The Money On A Power Winch?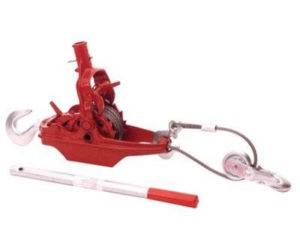 The "More Power Puller" is another good option.  This an "heirloom" tool, meaning it's tried and true and will be around for your kids to use.  It doesn't require anything other man-power which makes it nice and simple.
Capable of pulling 4000LBS on a straight pull quite easily it is the perfect tool for most jet boaters.  If you have a larger, heavier boat they offer a 3 ton model as well.