Search Our Jet Boat Inventory
Awesome Jet Boat Companies You Need To Know About
Jet Boats For Sale Across Canada and The USA.
JetBoatsForSale.Ca is a website dedicated to the buying and selling of  Welded Aluminum Jet Boats.  Our goal is to make this site the #1 destination on the web for anyone who is searching for jet boats or welded aluminum river jet boats for sale.
You'll Find Jet Boats For Sale From Many Jet Boat Manufacturers & Smaller Custom Builders
Ali-Craft, Explorer Industries, ExWelding, Outlaw Eagle, KingFisher, Silver Streak, Shuman Built (El De), Wolfemade, Neid Industries, Marathon Marine, FireFish Industries, Bratt Jet, Duckworth, Wooldridge, Custom Weld, Thunder Jet, Riddle Marine, Hells Canyon Marine and more.
Jet Boating Blog & Information For Jet Boaters
Why Sell Your Jet Boat on JetboatsForSale.Ca?
If you are a private seller the answer is really simple.  You want the most possible exposure for your boat so you can sell it quickly, with minimal hassle, and for a fair price.
Quick Traffic Facts 2018
 We've had over 12,225 visitors from Jan 1 2018 – April 4th 2018.
 We've had 102 inquiries on jet boats for sale.
Here is how our platform helps you do that as a private seller:
#1.  We get tons of jet boat traffic
(over 4000) visitors per month currently.  Our visitors are interested in buying a jet boat.
#2. It's free to list your boat. 
We do not charge private sellers anything, there are no fees, no commissions, nothing.
#3. It's easy and fast. 
You can have your jet boat listed within 5 minutes on the busiest marketplace for jet boats on the web, there is no need to list your boat anywhere else.
Why Jet Boat Dealers and Builders Should List Their Boats on JetboatsForSale.ca?
If you are a jet boat dealer or a jet boat builder the answer to this question get's more complicated.  But it's only more complicated because of the amount of new opportunities that good Internet Marketing of your inventory can bring to your jet boat specific business.  As a dealer or boat builder there are many ways that JetboatsForSale can help you sell
more
boats to
better
customers.
How Can We Do That?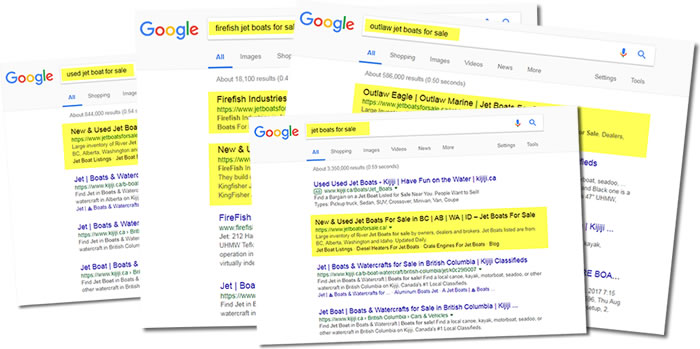 To understand the value of our traffic it's important to understand "Intent" and how it relates to web traffic when you are marketing a high ticket product such as jet boats.  If your goal is to sell or at least generate a lead then you need to target your visitors based on their
intent
. Think of it like this… When someone is searching a keyword phrase like "Jet Boats" they just don't have the same intent as someone searching a more direct keyword phrase like "Jet Boats For Sale".  Targeting the search queries with buyer
intent
is how you generate
good quality
inquiries for jet boats. In the world of Internet Marketing these different phrases people find your website in search engines with are called "keywords" and they come in two different formats. Short tail, and long tail. An example of a short tail keyword would be "Jet Boats".  It's a very short, very broad search.  This searcher could be looking for any number of things related to jet boats. An example of a long tail keyword would be "Firefish Hammerhead Jet Boat For Sale".  This searcher is looking for a very specific brand and model of jet boat and more importantly they want to find one "for sale".  This searcher has
intent.
Traffic with
intent
is where your online buyers are hiding.  These buyers will be the easiest for you to sell a boat too, especially if you have one of the boats they want or something very comparable!  
Intent
of your web visitors is
everything.
We Only Target Searchers With Intent
We can provide your jet boat inventory with a "turn-key" stream of jet boat buying traffic with
intent
. Our visitors find us under hundreds of different keyword phrases for jet boat manufacturers including Ali-Craft, Bratt Jet, FireFish, Outlaw Marine, Thunder Jet, Riddle Marine, KingFisher and more. We also target the most popular models of jet boats such as the Bobcat, Lynx, Muskwa, Piranha, Hammerhead, Explorer, Husky, Bulldog, Extreme, and more.  If someone is searching for their next jet boat on the Internet, they are coming to this website.  If your inventory isn't listed you are missing out!
What Are The Benefits To Your Brand Awareness?
We give
jet boat builders
and their dealers an opportunity to compete on a level playing field for the best traffic you can get.  Traffic with
intent
.  On our website consumers can browse many different makes and models of jet boats in one place. They may arrive looking for one make of boat but they could leave with a love for your brand having just discovered it for the first time on our website. One of the worst marketing mistakes a company can make is to assume they are big enough that anyone who could or would become a customer already knows who they are.  The Internet levelled that playing field a long time ago.
Read More About Buying A Used Jet Boat
List Your Jet Boat For Sale
Looking for the easiest way to sell your jet boat for a fair price?  Jetboatsforsale.Ca is FREE to list your boat and our traffic is very specific.  If someone has found us in a search engine it's because they are looking for new or used jet boats for sale from a variety of jet boat manufacturers and small custom builders.
Jet Boat Dealers Canada/USA
Are you looking for the closest jet boat dealer to your location?  Maybe you're looking for jet boat dealers who carry a specific line of jet boat?  We have a complete listing of jet boat dealers in Western Canada and The USA.  If you're a marine or powersports dealer that specializes in jet boats you can add your listing for free.
Jet Boat Builders
We offer a complete listing of the most popular jet boat builders across Western Canada and the USA.  We have details on jet builders past and present.  Whether you're trying to learn more about a specific manufacturer who may no longer be in business or you are beginning research for your custom boat, you'll find it here.