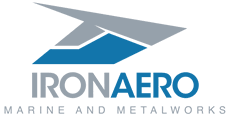 Iron Aero Marine & Metalworks is a full service marine and metalworks fabrication and repair facility located near Calgary, Alberta.  They specialize in a variety of custom marine fabrication services including:  Welded aluminum boat repairs, speciality fabrication, hull detail and interior refits, custom boat accessories, and more.
Full builds, Hull completion and Restorations
Custom welding and modifications
Finishing of unfinished hulls
Repairing damaged aluminum hulls
Customization, Mods and Upgrades
Workboat safety railings, access doors, checker plate sheet floors, gunnel side storage/seating.
Aluminum bow hatches, anchor hatch, grab rails, winch mount, fold away rear seating/storage.
Pontoon boat swim decks and kicker brackets.
Custom tunnels, ride plates, PWC river intakes.
Swim decks, pump guard steps/reinforcement.
Products and Parts
Impellers, wear rings, Sport jet, Outboard jets, PWC.
Outboard jet intakes, Stock cast aluminum or new urathene material with built in wings.
Prybars.
Floatation pods, Bigger motors, minimal static draft and better holeshot, custom fit perfectly to your hull.
Anchor systems, customized to your liking.
Iron Aero Marine & Metalworks Contact Details

Phone: 1-403-829-9948
Website: https://www.ironaero.ca/ |  FaceBook
Shop Address:230092 56ST E.  Foothills, AB T1S 3T1