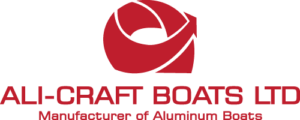 ALI-CRAFT is a welded aluminum boat builder based out of Prince George, BC.  Ali-Craft specializes in building custom jet boats that are designed to handle the abuse of hunting and fishing Northern BC rivers and lakes.  Originally from New Zealand, (where Jet Boating was a craze!) Ali-Craft began building boats in Prince George, BC in 1981 and they've been building them ever since.
ALI-CRAFT has manufactured specialty boats for use in police patrol, Fisheries & Oceans, cabin boats, racing, remote hunting, remote fishing and more.
Ali-Craft Boat Models
Ali-Craft Explorer 16 -18ft
Ali-Craft Caribou 16 -18ft
Ali-Craft Ranger 20 - 22ft
Ali-Craft Boats Ltd. Contact Details

Phone: 250-563-3406
Website: https://www.alicraft.com |  YouTube |  Facebook
Mailing Address: 355 1st Avenue, Prince George, B.C.,  V2L 2Y1.